Last Saturday night I went with my family to attend the About Face exhibition in Los Angeles. I had been very excited about the event ever since I read
this post
stating that the photographer Wahb Mabkhout would be showing his work featuring eight plus-size models. So I'd like to share a description and some photos of the exhibition. I apologize for the poor photo quality--my digital camera's autofocus and the flash sometimes create blur and/or glare.
My family and I arrived at the event's opening (7 PM) and only stayed for about an hour and a half, because after that it became quite crowded. But luckily, we still were able to see all the artwork, and I got to talk a bit with Wahb Mabkhout before we left. (I was really hoping to meet Kelsey, though! I guess she arrived later in the evening.)
The About Face exhibition was held at a small art gallery called "The Loft at Liz's". The Loft is actually located above an antique hardware store. (You enter the store and then climb a long wooden staircase at the back to enter the art gallery.)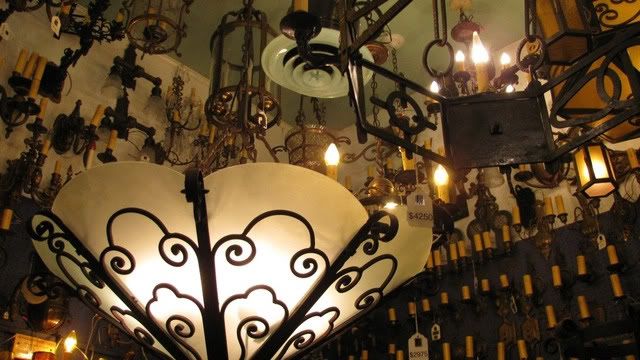 One of the rooms within the antique hardware store below the Loft at Liz's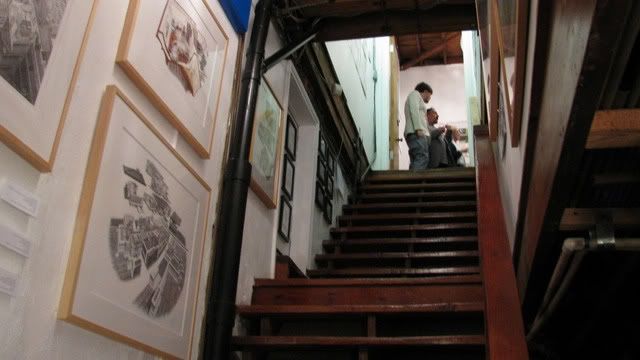 The stairway leading up to the Loft
The gallery was a largish room lit by a combination of studio lamps and glass chandeliers. There was a DJ near the door playing some "techno-tribal" music.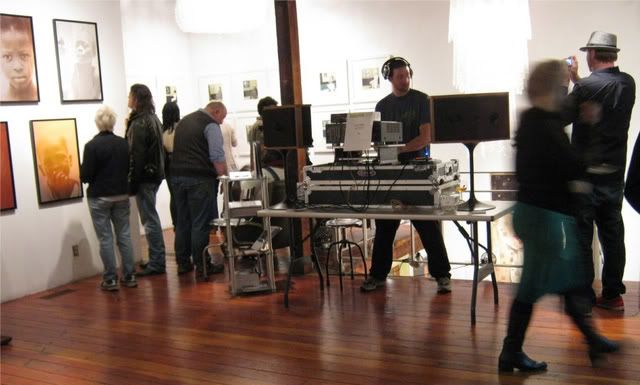 When we first arrived there were not more than about 20 people present in the gallery, but still, it was a flurry of activity--of visitors walking around to admire the artwork, chatting with each other and with the artists, and enjoying the light refreshments provided. (There was a little "kitchen" at the back of the room, where wine, cheese and bread were served.)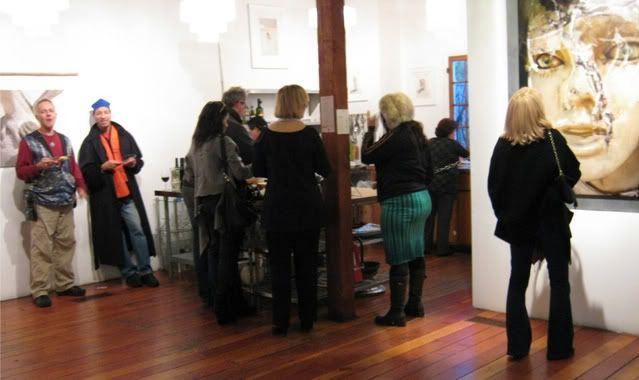 Each artist had a portion of the room dedicated to his/her work. I was delighted to find that Wahb Mabkhout's area was enclosed in its own special, brightly lit little doorless room within the Loft, giving the impression that his "Glamorous Curves" exhibit was the main attraction of the show (which of course it was, for me).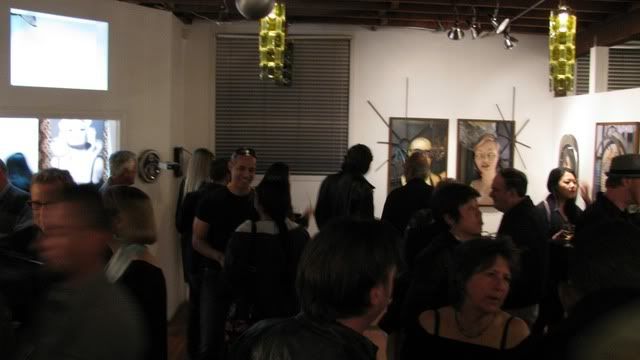 The Glamorous Curves exhibit was located in the room on the left in this photo.
There were eight black-and-white portraits (one for each model), each framed with a different animal-print fabric. The models featured were Heather Justice, Davie Cabral, Rosie Mercado, Danielle Line, Denise Bidot, Reah Norman, Audrey Delano, and, of course, Kelsey Olson.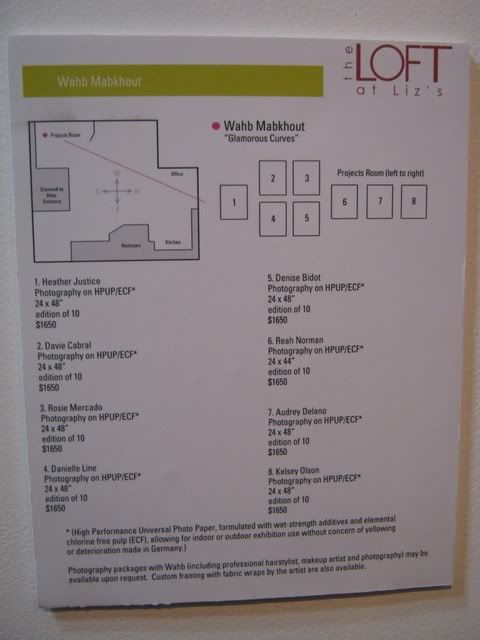 An information plate about "Glamorous Curves"
Not surprisingly, Kelsey's portrait was the one that immediately caught my attention as I entered the room. Her blonde tresses appear to be almost glowing as they frame her gorgeous face and tumble onto the shoulders in the portrait. She gazes at the viewer through heavily-lidded eyes with her face upturned, illuminating her impossibly perfect features. Her expression is alluringly vain and very sensual. I also think she looks very powerful in the photo--she's fully aware of how intoxicatingly beautiful she is and how no man on Earth can ever resist her! She appears to be wearing only a delicate pearl necklace (which seems only a touch paler than the exquisite fairness of her skin!) and a black bra and shawl.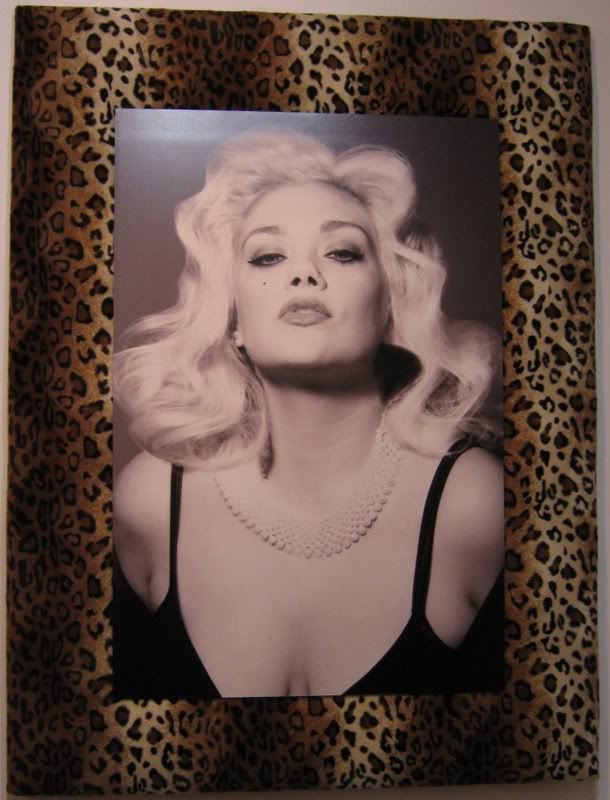 Rosie's portrait was also quite stunning. She wears dark lipstick to match her lovely raven-black hair in her portrait, looking every inch a cruel and tantalizingly beautiful Snow Queen. She has an almost disdainful expression on her gorgeous face, and she reaches her hand back through her hair in what appears to be a coy, preening salute. She wears a pearl choker as well, with a cute halter top that hugs her every sumptuous curve.
All of the portraits are extremely beautiful--the dramatic lighting and provocative styling showcase the luxurious beauty and unique talent of each model wonderfully. I love how the models project such a variety of seductive personas in this series, from pensive princess to femme fatale. And as predicted in
the previous post
based on the teaser video for the exhibition, the poses and expressions that the models adopt in the portraits are undeniably sexy but still very classy. The photographer, the models and the stylist have truly made masterpieces with these photographs.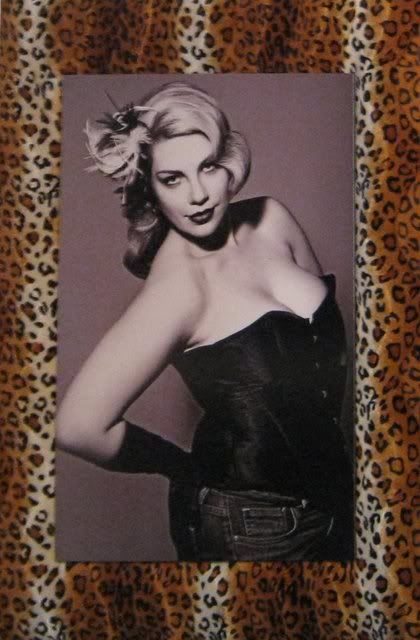 Audrey Delano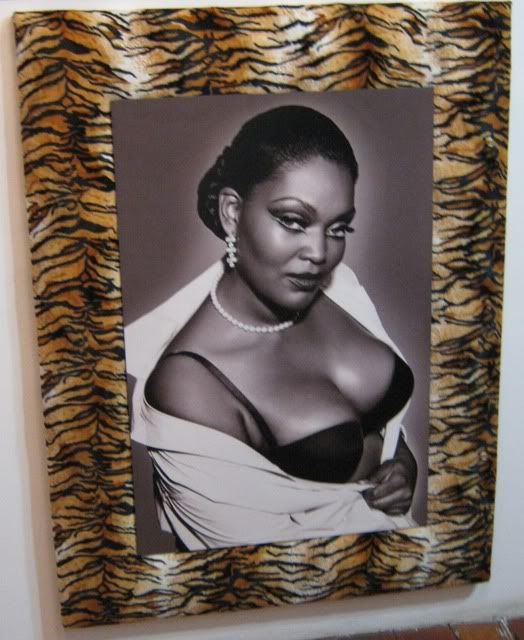 Heather Justice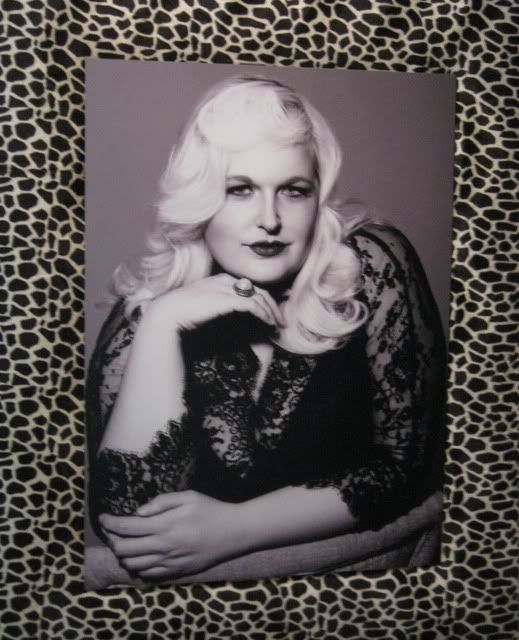 Reah Norman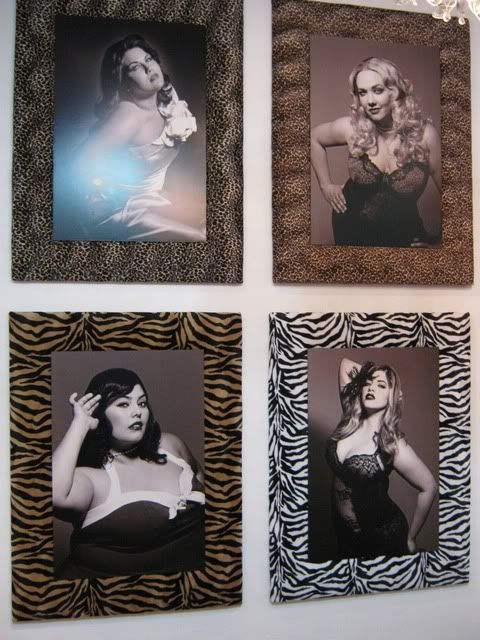 Davie Cabral, Danielle Line, Rosie Mercado and Denise Bidot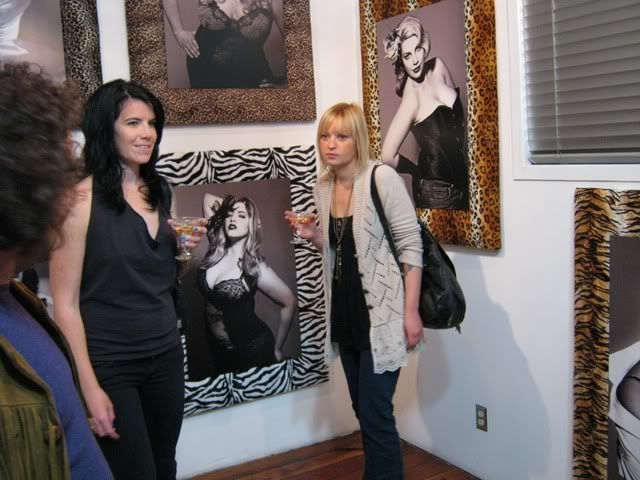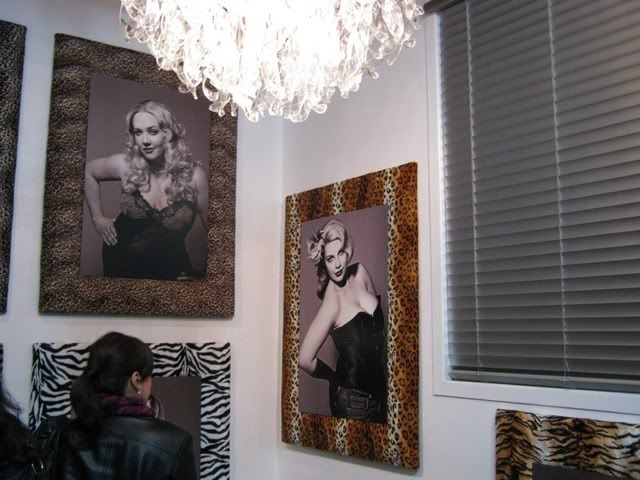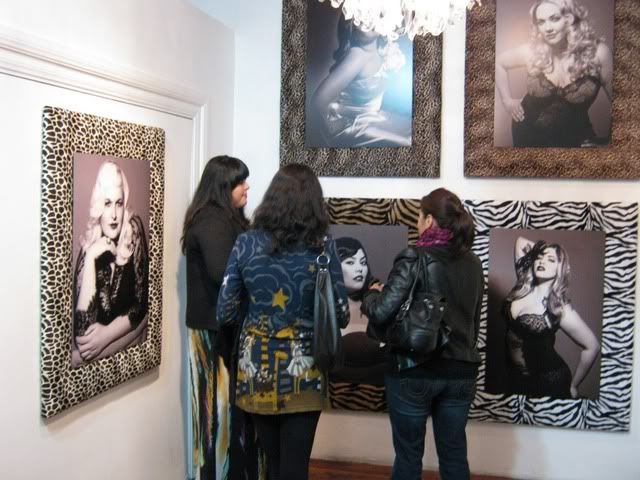 Mr. Mabkhout was constantly being chatted up, so I didn't get a chance to talk to him for a while. During the time I was there I only saw one of the models (Audrey Delano). I didn't get to speak with her though...a camera crew came in and interviewed her and Mr. Mabkhout, and then she went out to the back entrance to watch the live show (there is a rear entrance from the street into the Loft, where an artist was painting on a large canvas, basing her painting off of a tattoo on a model who would later come and stand with the painting).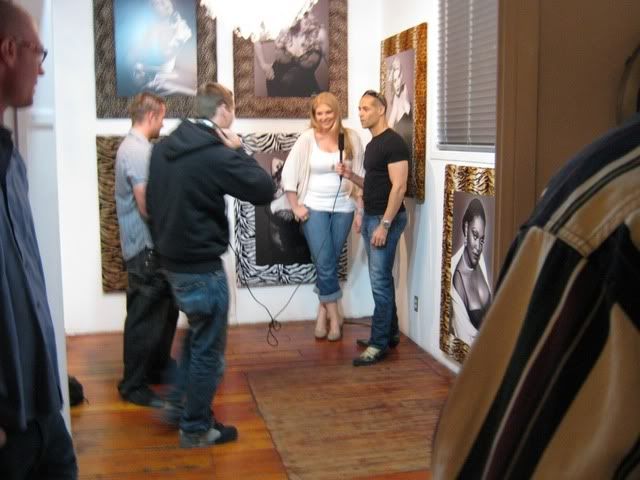 Audrey Delano and Wahb Mabkhout being interviewed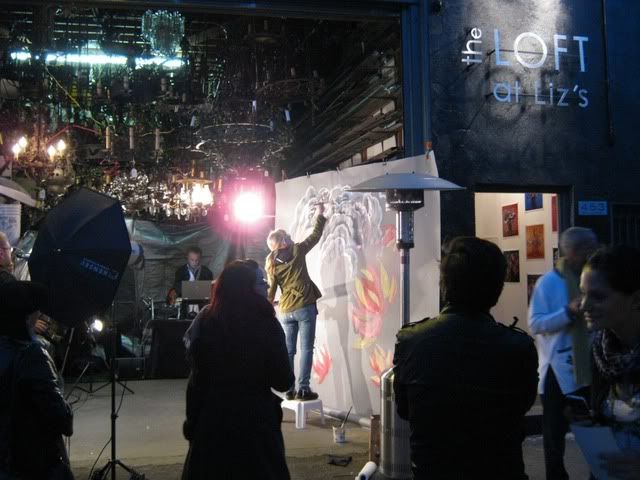 Live painting show at the rear entrance
When I did finally get to talk to Mr. Mabkhout, I simply complimented him on his work and asked him about his inspiration for the portrait series. He said, "I've always loved the divas of the 1940s and '50s--Sophia Loren, Marilyn Monroe, Bettie Page. It's strange--I worked in fashion photography for 15 years, and suddenly I realized that I've never really photographed the kind of women I'm attracted to. I'm attracted to curvy women. I suppose working in the industry, you develop a certain mindset, and it just never occurred to me to photograph plus-size girls. So this is my very first series featuring plus-size models." He laughed...He seemed to still be amazed and amused by the fact that he hadn't worked with plus-size models before.
I asked him how he selected the models he photographed in the exhibit. "I have a friend who is a stylist for plus-size fashion. She got me in contact with a number of plus-size models, and I chose the ones I wanted to work with." I commented to him that some of the models featured were my very favorite models--Kelsey, Rosie, and Denise. He seemed to smile especially fondly when I mentioned Kelsey. I asked if he was planning to do more photo shoots with plus-size models and he said, "Oh yes, many more!" (Now I wish I had thought to ask him what possible themes he was planning for upcoming shoots!)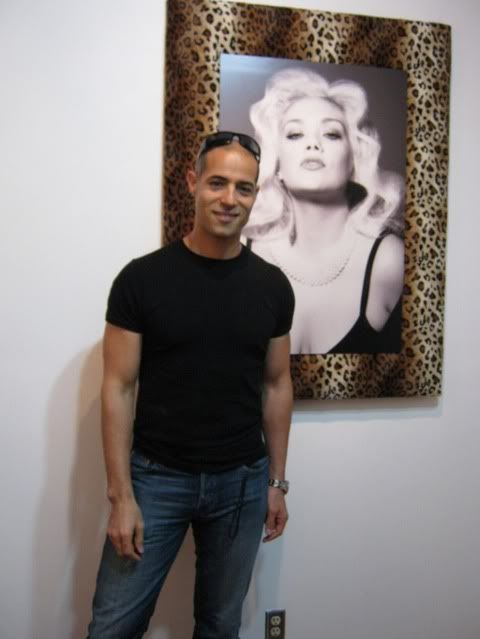 I took a photo of him with Kelsey's portrait and thanked him again for his time. Indeed, towards the end of our chat, I noticed his eyes darting nervously around the room, as there were many more people waiting to talk with him, undoubtedly impressed by his groundbreaking exhibit. By the time my family and I left, there were many more people in the Loft (though still no Kelsey among them!)--the event was clearly a great success.