I've never forgotten last year's
thread
about lovely Malaika Meder modelling for the New Zealand label The Carpenter's Daughter. It featured what I consider to be the most beautiful, sensual image of a voluptuous vixen indulging herself that has ever been created.
Therefore, I remembered the model's name when she turned up in a new article about the difficulties that curvy girls experience when shopping.
http://www.nzherald.co.nz/lifestyle...jectid=10783537
The whole article is worth a read. It describes an experiment run by a New Zealand newspaper, an experiment of the kind that various magazines have embarked on in the past:
Quote:
The Herald on Sunday went mystery shopping on Auckland's Ponsonby Rd, with fashionable 23-year-old Malaika Meder, a size 16.

Posing as a shopper wanting a dress for a party, Meder put retailers to the test.
Alas, the results turned out to be every bit as disheartening as other such candid studies have shown.
Quote:
She found few options and received some frosty receptions from staff.

In Huffer's pop-up store, 12 - "medium" - was the largest size in stock. Meder asked the shop assistants what size the brand went up to and was flatly told: "14."

Then, as she browsed a rack just a couple of steps away, the staff whispered between themselves about the sizes.

Nearby in Sass & Bide, only sizes six and eight were displayed on the shop floor, with 10s and 12s available on request.

Asked if there was anything to fit a size 16, the assistant scrunched up her face and pointed to a shapeless, mustard-coloured dress.
And remember: this is the reception that a
beautiful
full-figured girl gets. Imagine the experience that average plus-size women have, who are often much larger than Malaika. It's undoubtedly far worse.
That's why the following excuse, used by one store in a feeble attempt to justify its anti-plus discrimination, is so absurd:
Quote:
Huffer designer Steve Dunstan said the brand had offered size 16 in the past but the demand did not justify the cost of production.
Well, for heaven's sake, of course there's no demand, when any time a plus-size girl goes into such a store, she's made to feel patently unwelcome. Add to that the fact that the options are so minimal, if they exist at all, and it's no wonder that full-figured women don't want to set foot in such stores. It's a self-fulfilling prophecy.
But of course, the truly appalling aspect of this is that the store owners don't
want
there to be demand for size 16+. They
want
to shun the curvy shoppers.
It's an intolerable situation.
The article quotes Whitney Thompson, ever ready to offer a pro-curvy perspective, as offering one sensible course of action that curvy girls can take, when faced with such blatant discrimination:
Quote:
Attitudes continued to surprise, after all a size-14 Whitney Thompson won the 2008 series of America's Next Top Model.

She told the Huffington Post last year that fed-up buyers needed to be more pro-active: "It's quite easy to just write a letter."
Yes. Exactly so. It's not enough to simply avoid an offending label. That simply plays into their hands. Better to
shame
any store that behaves in such an appalling manner. The bad PR will sooner compel a change in attitude than anything else would.
Incidentally, the article comes with an attractive picture of Malaika: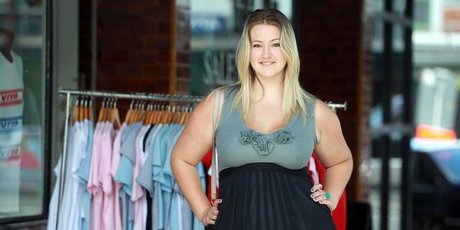 Any store should be so lucky as to have such an attractive, well-built girl walk through its doors. If the store owners had any sense, they would treat such a shopper as the princess she is, and hope to keep her coming back.